The use of real estate asset management software is becoming more and more widespread in the asset management sector. In a context where process optimization and cost saving are increasingly important, solutions of this type are gaining more importance.
Many professionals, however, find themselves limited by the tool they have chosen, as it does not allow them to integrate all available data into their analytics. This problem can be solved by adopting an integrated asset management software, which offers many advantages and allows for efficient strategic planning in the management of a real estate portfolio.
Property and asset management
Property management, in its most commonly understood sense, encompasses two types of activities:
rental management, also known as "property management", which consists of the day-to-day management of a property: maintenance, rental receipts, expenses, relations with tenants, etc. These duties are generally performed by a property manager.
strategic management or "asset management": this is generally practiced by institutional investors more than by private owners and it is decisive in maintaining and improving the quality and performance of a property portfolio.
Asset management generally concerns substantial assets of more than 3 million euros.
Different aspects of real estate asset management
Real estate asset management covers several areas.
During the acquisition phase
In the property acquisition phase, the asset manager:
Defines an acquisition strategy in line with the investor's objectives and market conditions.
Accesses the market to identify opportunities that match the defined strategy.
Analyses the planned investment (market study, technical audit, financial analysis…).
May participate in the search for financing.
During the exploitation phase of the property
When it comes to a property already acquired by the investor, the asset management activity involves:
Proposing strategic orientations at the best time: upgrading to standards, carrying out major work, optimizing the rental situation, etc. To this end, an asset manager relies on both his global knowledge of the real estate market and financial modeling tools that allow him to evaluate the cost of each possible option.
Supervising all service providers and subcontractors (architect, accountant, rent collector, etc.) in order to be the sole contact for the owner of the property, to provide him with all the information and an accurate evaluation of the financial performance of his real estate assets.
In short, asset managers must think like investors on behalf of their clients who own the assets.
How can you use asset management software?
With the help of property management software, asset management professionals can improve their strategic planning and make better decisions. By choosing an integrated tool, they can ensure compliant reporting.
Reliable data for strategic planning
The foundation of successful property management is reliable and easily accessible data. One of the advantages of asset management software is that it provides such data in a clear and concise manner. Asset managers can find information on technical conditions or space and workplace usage, for example. It will also allow them to plan scenarios or create CAD visualizations and reports on a property.
These tools ensure the consistency of a real estate strategy with the objectives of the company operating the asset. Real estate scenario planning is particularly useful for:
Analyzing the actual performance of a real estate portfolio in relation to the defined objectives.
Identifying potential gaps in the current strategy.
Providing the necessary tools to remedy these deficiencies: management of property acquisition or sale transactions, management of investment projects, etc.
A powerful tool for decision making
Asset management software helps property managers in their financial decision-making by providing them with a comprehensive view of their real estate portfolio. It provides them with quick information on the total cost of ownership (TCO) of their assets and empowers them to make strategic choices based on their projected life cycle.
For instance, with this tool, they can identify buildings or areas where substantial savings can be made, or plan capital flows with precision.
Compliant reporting
With an integrated IWMS solution, asset managers can more easily standardize processes and data for reliable and compliant reporting. They can also benchmark both internally and externally.
How does an integrated asset management solution work?
Integrated software for asset management has several key advantages, particularly in terms of data processing and the integration of digital tools that facilitate and improve the management of a real estate portfolio.
Optimal data processing
With an integrated solution, all the data collected will be stored in a single database. This database is used for all processes that make up property management: facility management, workplace maintenance, environmental optimization, etc. This enables the production of comprehensive KPI reports and reliable portfolio analyses.
By integrating the different processes, you can also:
Manage strategic, tactical, and operational asset activities simultaneously.
Identify and implement improvements.
Reduce portfolio TCO.
Integrating new digital tools
Furthermore, an integrated solution can integrate the latest digital tools that facilitate the management of a real estate portfolio, including:
BIM (Building Information Modeling), which allows for the use of design and construction information during the life cycle of a building to optimize its management
GIS (Geographic Information System), which enables the mapping of portfolios
SAP-type process integration systems.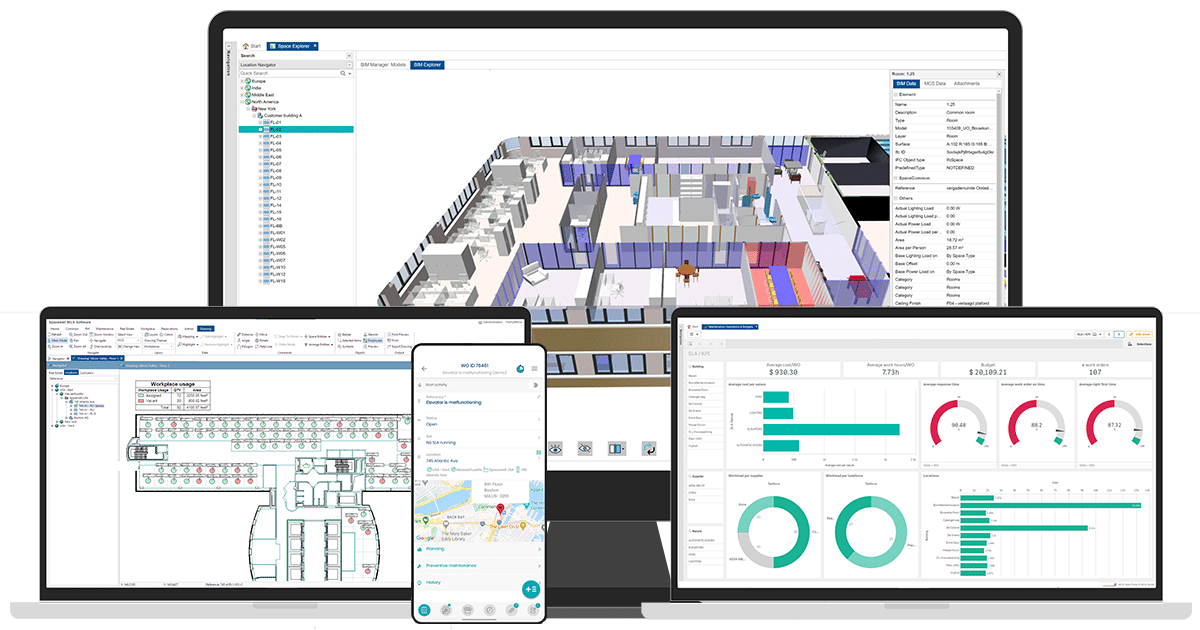 By choosing an integrated asset management software, you will acquire a tool for data centralization, analysis, and planning that is more powerful than traditional solutions. It means giving yourself the means to use present and future technological innovations for efficient and optimal property management.