About Us
At Spacewell, we are focused on making buildings work for people. With market-leading digital solutions we support you to improve the performance and sustainability of your building portfolios, the wellbeing and productivity of the people using these buildings, and the quality of the services delivered to them. > Learn more about our brand story.
Mission
The workplace, energy & maintenance formula uncovered: no nonsense, just tools & insights based on real data.
Vision
Optimizing building performance & improving quality of life by delivering innovative software solutions.
We help you get more out of your buildings
Spacewell is active in the fast-growing building management segment (the use phase of buildings), which represents up to 80% of total lifecycle costs. By investing in digital solutions, building owners can achieve significant cost benefits, simplify operations and maintenance, increase building performance, create a better occupant experience, and differentiate their spaces in the competitive real estate market.
PropTech solutions that empower building users
At Spacewell, we focus on making building management smarter and empowering building users through PropTech solutions that integrate IWMS, mobile tools, and the Internet of Things. By leveraging real-time IoT sensor data, facility managers can monitor and improve comfort and well-being, indoor air quality, energy efficiency, and the use of space. In addition, they can provide real-time assistance to building users, and deliver more effective, activity-based services.
The Spacewell History: PropTech Innovation, Global Expansion, and Leadership
Founded
Founded as MCS in Antwerp, the company pioneered the conversion of CAD plans into intelligent database objects. This allowed a broad group of non-specialists to use the information stored in these drawings for a variety of FM & CRE purposes.
Global Expansion
Under new leadership, the company quickly expanded its workforce and software development scope. MCS opened offices in APAC, Scandinavia, France and the US and began introducing the Internet of Things into the world of facility management.
Strategic acquisition
After bringing its solutions to the broader footprint of the Nemetschek Group in August 2018, the company further expanded its solution range with the acquisition in January 2019 of Dutch SaaS provider Axxerion. In December 2020, Spacewell acquired Spanish DEXMA and its AI-powered energy data management platform.
Rebranding
As a result of these acquisitions, the company is now able to offer a full range of solutions for smart workplace, maintenance, and energy management. The new company name becomes Spacewell, referring to WELL-being within the building SPACE.
Leader
In 2022 Spacewell is recognized by independent research firm Verdantix as a Leader in both IWMS and IoT platforms for Smart Buildings. Both solutions are fully integrated into a single cloud platform. As from March 2022 this unified solution goes under the name Spacewell Workplace.
Expanding
Spacewell further develops its indirect channel strategy to expand its worldwide SaaS solution delivery. Spacewell Maintenance is launched, and Dexma officially becomes Spacewell Energy.
We are part of the Nemetschek Group, a publicly listed strategic holding company whose operating subsidiaries employ around 3,600 experts around the world. The Group's software enables the lifecycle management of buildings by integrating the processes of designing, constructing, and operating a facility. The Nemetschek Group drives the digital transformation of the building industry and fully supports OPEN BIM, in order to realize a seamless flow of information and feedback throughout all project stages, from design to build, to maintenance and operations.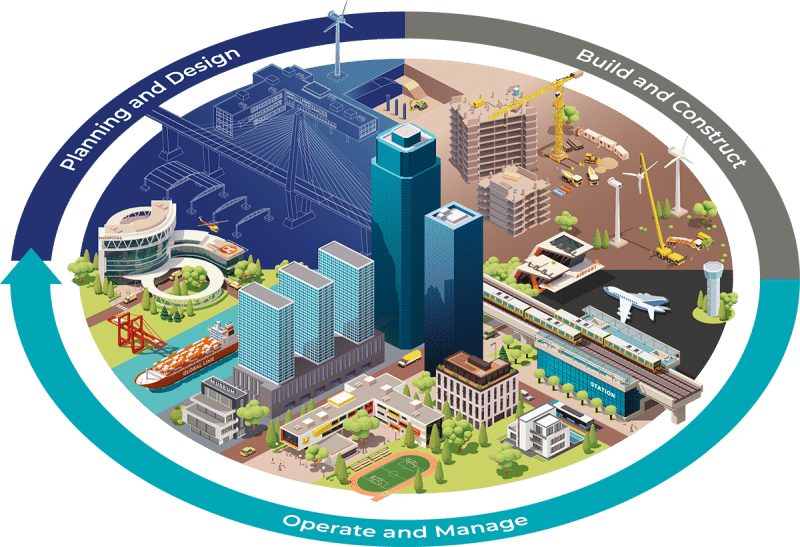 82
locations in 42 countries
7
million users worldwide
1999
IPO-listed in 1999, quoted on MDAX & TecDax
10
billion EUR market capitalization
801,8
million EUR sales revenue (2022)

AEC/O Lifecycle Solutions
Nemetschek Group solutions are used across the Architecture, Engineering, Construction, and operations (AEC/O) industries, empowering users in every phase of the building lifecycle with best-in-class software solutions.