WiredScore certification recognizes and promotes best-in-class digitally connected buildings that deliver exceptional user experiences
Spacewell was awarded solution accreditation for its software suite against the SmartScore certification framework, WiredScore's global standard for smart buildings
Spacewell achieved an outstanding score of 78.25, enabling clients to attain up to Gold SmartScore Certification for their buildings by implementing its solutions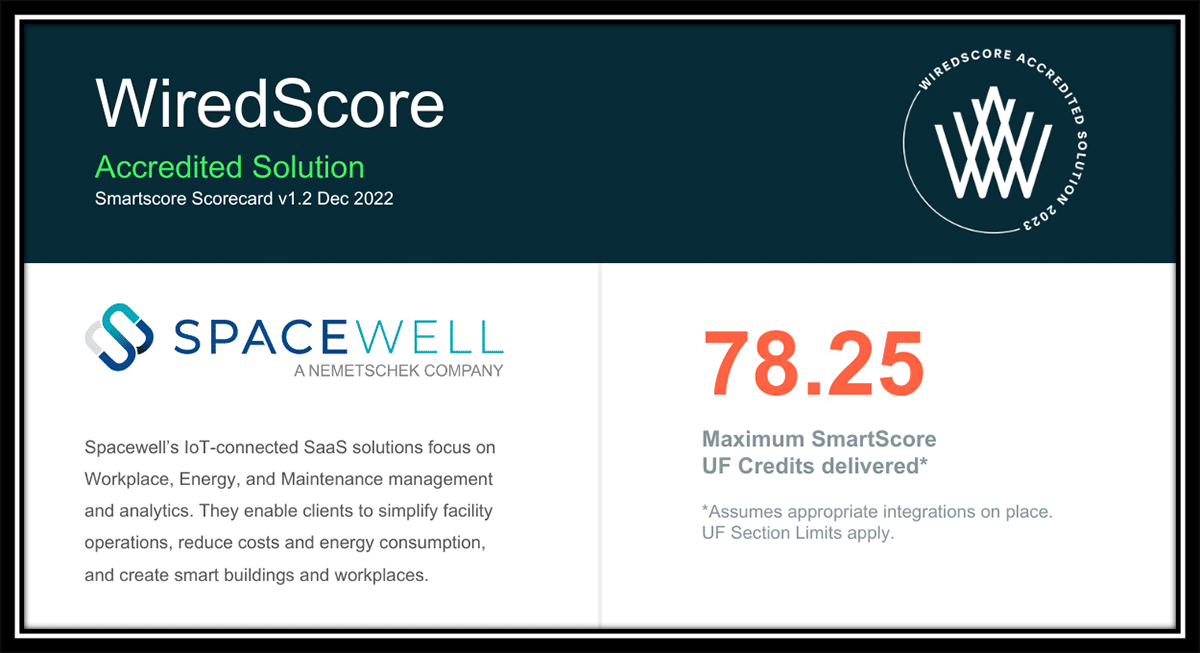 Spacewell, a leader in IoT-connected workplace, building maintenance, and energy management software, today announced that it has earned accreditation for its suite of solutions through WiredScore, a global leader in assessing and certifying smart technologies in buildings.
The Accredited Solutions program was launched in 2021 to certify that smart, connected building products meet the latest industry standards and provide value for building owners and operators globally. This program aims to ensure that these products are reliable and efficient, and offer advanced features that benefit both the users and the environment.
Spacewell's software suite was accredited by WiredScore among other things because it supports building owners and operators to improve the occupant experience, optimize space and asset performance, and reduce energy costs and carbon footprint.
Data-Powered Intelligence
ESG regulatory pressure, distributed workplaces, and changing employee expectations are reshaping the commercial real estate landscape. To reconcile competing objectives of environmental sustainability, occupant comfort and health, and cost reduction, businesses need connected intelligence to make better-informed decisions. The Spacewell platform enables facilities and real estate teams to make smart operational choices, backed by data-driven insights.
"We are honored to be SmartScore certified," said Wouter Hartemink, CEO of Spacewell. "Meeting the rigorous evaluation criteria of the program not only shows the solidity and effectiveness of our solutions but also sets us apart as a top choice for owners and tenants aiming for up to gold SmartScore certification. At Spacewell, we understand the importance of constantly pushing boundaries and innovating in order to stay relevant and thrive in today's market. This is why we are proud to have achieved this distinction, underscoring our unwavering commitment to delivering the best digital solutions for all stakeholders in the building value chain."
Laura Hancox, Director of Partner Programs at WiredScore, commented: "We are delighted to be working in close partnership with Spacewell. To be recognized by our Accredited Solutions program underscores their commitment to the broader industry effort to create future-ready buildings that meet the needs of the modern workforce."
Continuous Impact
Featuring a suite of IoT-connected and AI-powered solutions, Spacewell helps building owners and occupiers achieve better outcomes, including:
Asset Lifecycle: Enables condition-based preventive maintenance planning and budgeting, while also supporting operations and compliance.
Space performance: Delivers dynamic insights into space occupancy and utilization, enabling occupiers to right-size office footprints and optimize the space mix
Sustainability: Detects energy savings and decarbonization opportunities, tracks and analyzes energy data, and optimizes energy use with AI-powered automation
Workplace Experience: Leverages real-time utilization, comfort, and air quality data from a wide variety of IoT sensors and provides intuitive visualizations on mobile devices to elevate the employee experience in activity-based and hybrid work environments
To learn more about WiredScore, visit: https://wiredscore.com/